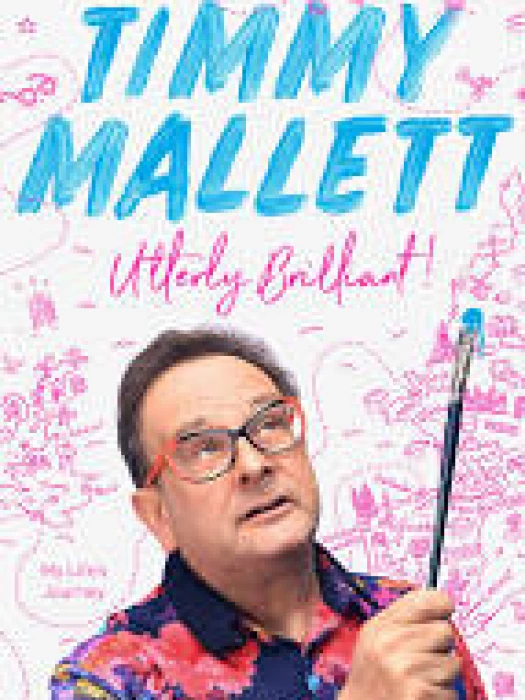 Due to the Covid-19 restrictions, we couldn't meet, so posted these individual reviews:
Angela Smith:
I was delighted at the beginning of Lock Down, to receive this Timmy Mallett's book. It looked very interesting and long. I hoped it would last me until the next Book Club meeting, so I determined to read it slowly. I read it so slowly that I have only just reached the end of it. I think Timmy Mallett would be a very entertaining man to know and I was impressed by the great love he had for his brother, who made the most of his potential and inspired him to do the same.. At the start, the book reminded me of one of my favourite books, Three Men in a Boat by Jerome K. Jerome, with its anecdotes and historical references, but it was not as humorous and as I had never watched children's morning television, many of the allusions to "Wacaday were lost on me. He seemed to enjoy being a celebrity, whom I had never heard of. His tour of France and Spain, I thought, was more of a cathartic experience for him, following the dear of his brother Martin, than a pilgrimage. The book would have benefited from more editing.
Ann Prendergast:
Not having heard of Timmy Mallett before, I didn't know what to expect from the book.
I was in fact very pleasantly surprised. I really enjoyed the book. Timmy was obviously very close to his brother Martin & was a positive influence on him. Martin's outlook on life "that everyone can reach their potential" was the inspiration for Timmy to make the pilgrimage to Santiago de Compostela in honour of his brother.
I liked Timmy's humour, lively personality & his thoughtfulness. He had time to reflect, & paint at the many stops along his strenuous journey. Even though there were several difficulties encountered on his way with the bike, lodgings, weather, he remained remarkably positive. He must be a strong character to travel this route alone. Timmy talked a lot about friendships & how important they were. He said how they could be uplifting, encouraging, reassuring & caring.I think he was all these things to his many loyal friends & thankful to those he met on his journey.
I think Timmy's view on friendship is very relevant to us today, in our lockdown situation.
These qualities have been shown by so many world-wide. Timmy's joy when he reached Santiago & went to the pilgrim mass in the cathedral was a "soaring moment," as the huge incense holder was swung from aisle to aisle. This book was an uplifting read. I would recommend it to others.
Annelies Varsey:
In this enjoyable book Timmy Mallett shared his amazing cycle ride (with an e-bike) from his home in Berkshire to Camino de Santiago, Spain. He undertook this trip in memory of his brother Martin, who was born with Downs Syndrome and had a speech impediment and had died shortly before. He took a bundle of Martin's name tags and left them in obscure places on his way (a crack at the side of a statue, behind an altar, a gap between the wall and the roof of a chapel ...). He reflects numerous times on past historical events and also includes many fascinating stories from his life. Timmy Mallett is also a gifted painter and painted many beautiful scenes from his pilgrimage during his trip. It is quite touching how Timmy Mallet remembers his brother Martin throughout his pilgrimage. "You ma bubba. You, me happy." He reflects that Martin has reached his potential In his life and vows to make every hour of every day count and, like his brother, to reach his potential in each and every way he can.
Mike Cragg:
I found it an easy read , amusing anecdotes as well as some interesting facts. I was particularly impressed with his historical knowledge as I was not aware of his degree in History. It is a different side to his personality not previously known to me. An enjoyable book which I found a refreshing change from some of the recent selections we have read. I had to put the book down on several occasions to "google" some of the subjects he mentions to get more details as well as looking at photos which made it more interesting. Are there photographs in the book? I have the kindle version so no photos here.
"Utterly brilliant" sums it up.
Marilyn Dores:
I enjoyed the book. It was easy reading, having interesting sections on Timmy Mallett's Camino trip, snippets from his life and historical stories connected to the places he went. I thought it was amusing in places, but also quite moving when he wrote about his brother. There was also a very good message about the importance of fulfilling your potential.
I can't say I've really seen much of him on TV, but of course I knew of him; however I didn't know he was also a painter. Since I only had small black and white images of his paintings on my Kindle I looked up his work online and I found a number of pictures of his Camino paintings on his website. He's quite a good artist.
Marion Green:
I enjoyed the book and was impressed by the energy and the extent of the pilgrimage in view of the terrain and the weather he encountered. I thought there was quite a lot of repetition as the same or very similar situation was repeated over and over. I also lost track of all the people he met en route but I felt the anecdotes and references back in time all added to the journey. I thought Timmie had quite an understanding of human nature and he was a good listener to people he met on the journey.
I had never heard of Timmie before and was quite impressed by all he had been involved with. Family life obviously is very important to him and the love and care extended to Martin, his brother, was very touching. I think the pilgrimage was even more meaningful because of the memory of Martin. It all made a good read.
Ken Harris:
I found this book 'profoundly frustrating'. I have pondered on quite why I felt this way, when others seem to have found it gripping. (It's a shame that we are not able to discuss it properly).
My frustration started with getting hold of the book. I made the mistake of initially purchasing Timmy Mallett's Utterly Brilliant History of the world – which was utter rubbish. I didn't know anything about TM before this, except that he was some sort of children's entertainer. But if this was how he introduced history to children, there's little hope for us. If you want your history with jokes, I would recommend 'Horrible Histories' or '1066 and All That'.
Then I ordered the paperback version, which never arrived, before I discovered that it was not being published until January 2021 – a bit late for the Book Club. When I finally got the right book, I was hoping for something a bit more enlightening, but it only confirmed my fears that TM was one of those people who hide their real selves behind a screen of jokiness.
We did get snippets of the real TM, but the way that he referred to his wife as Mrs. Mallett seemed to say it all – we were not going to be told about anything very personal. The part that I enjoyed reading most was the story of his mother-in-law, Maisie. But I found myself asking why, when Maisie was celebrating her 100th birthday, and Mrs TM was in Australia celebrating this event, he had decided to go cycling (on an E-bike, which feels to me like cheating when I compare it with Swanbourne's own Tommy Fremantle who cycled from Swanbourne, England to Swanbourne, Australia on a real bike). He did confess that he made this decision without consulting his family.
By the end of the book, I came to the conclusion that Timmy was in awe of his older brother who, despite being born with Down's syndrome, had lived life to the full. TM likened life to a journey, and he saw his Comino journey as a metaphor for this. It was the journey rather than the destination that was important. Yet he says that the purpose of the journey was to raise awareness of reaching your potential (p150). I had the distinct feeling that he felt that he had not reached his potential, despite his apparently successful show-biz career, his number one record (a remake of an earlier hit rather than an original creation) and his meeting up with many of the other celebrities of our modern age.
It felt to me that, like the unfortunate bikini-wearing girl of Itsy-Bitsy, Timmy Mallett was also afraid to come out about who he really is. Must he must remain in the water, or did he reveal enough of himself through his account of his two journeys – his life journey and his bike journey? On both journeys, he seemed to be lacking a reliable map, and that was another frustration for me. There was no way that I could use the technological map that he offered us in his introduction. I just needed a simple map of where he went on his ride from Reading to Comino and Finisterre and back.
David Neville:
What an extraordinary, quirky book! Yes it was about his Camino to Santiago de Compostella in memory of his Down's Syndrome brother Martin and he left these name tags in various places on his journey (Why did he have so many? Perhaps you could buy 100 at a reasonable price – it seems to ring a childhood bell! Or were they made specially for this journey – I suspect not.) But it was also a book about his very extraordinary life, but not in an orthodox autobiographical way as it dodged about among his doings as something happened on route to stir his memory.
People undertake these pilgrimages for all kinds of reasons and although he had many church connections and backing I felt it was for him a Spiritual journey rather than a Christian one. Although he a great extrovert who loves challenges and seems to be always 'on the go' I got the strong feeling that this was a tough journey for him, physically and mentally. It wasn't by any means plain sailing.
And then there was the painting which seemed to be as important to him as completing the Camino. He was always telling himself to be slow and enjoy the journey and paint and meet people and experience all there was on the journey.
His brother hadn't died when all the journey planning was taking place and although he was trying to live out his motto of 'striving to reach one's potential' as he saw his brother doing in spite of his disabilities, it also became a memorial ride.
I didn't know of Timmy Mallett before reading the book but my children put me straight! I enjoyed it and it gave me many causes to consider the way of life we all are leading – should we change as lock down is giving us all a different view?
A good read.
Peter Green:
Just as Timmy Mallett's 2,500 mile bike ride from Cookham to Santiago de Compostela was made easier by his e-bike, the reading of his 320-page Utterly Brilliant was made easier by several devices. These were his clear writing style, excellent sketches and paintings of his journey, historical backgrounds of people and places along the way and his autobiographical highlights and achievements weaving in and out of his story.
Timmy comes across to me as a very personable, multi-talented, caring man with a quirky sense of humour and a supportive faith. A major motivation for his trip was to share his late Down's syndrome brother's urging to reach your full potential and to live life to the full. So a recurring message was his living in the moment. The time to make the most of life is right now, rather than spending too much time reflecting on past glories or regrets or worrying about tomorrow's potential problems, many of which don't happen.
Whilst the world's darker side was illustrated in the eventual theft of his beloved e-bike, Timmy also encountered many acts of kindness on his journey, as many of us have seen here during the Covid-19 lockdown. I liked his postscript about a smile making the day go better and the importance in life of not how far or fast you go but how much fun you have along the way. He entreaty us to have a nice life and see him in heaven.
Sue Chilton:
I thoroughly enjoyed Utterly Brilliant,and thought it was a great book for 'house arrest'. It was wonderful to hear it read(via Audible) by Timmy Mallet himself with all his exuberance it came alive, and I listened to it several times through walks, gardening, balancing spreadsheets to bank accounts and knitting. I found his mixture of autobiographic reminiscences, historical facts and traveling adventures appealing, informative and amusing. I loved to hear Timmy talk of his family, friends and meetings with such a variety of people through his life. It was touching to hear of his memories of his recently deceased brother, and of his leaving the name tags in memorable places that his brother would have enjoyed. I felt his experience of the Santiago de Compostela was more of a cultural rather than spiritual one and on his electric bike less enduring than walking.