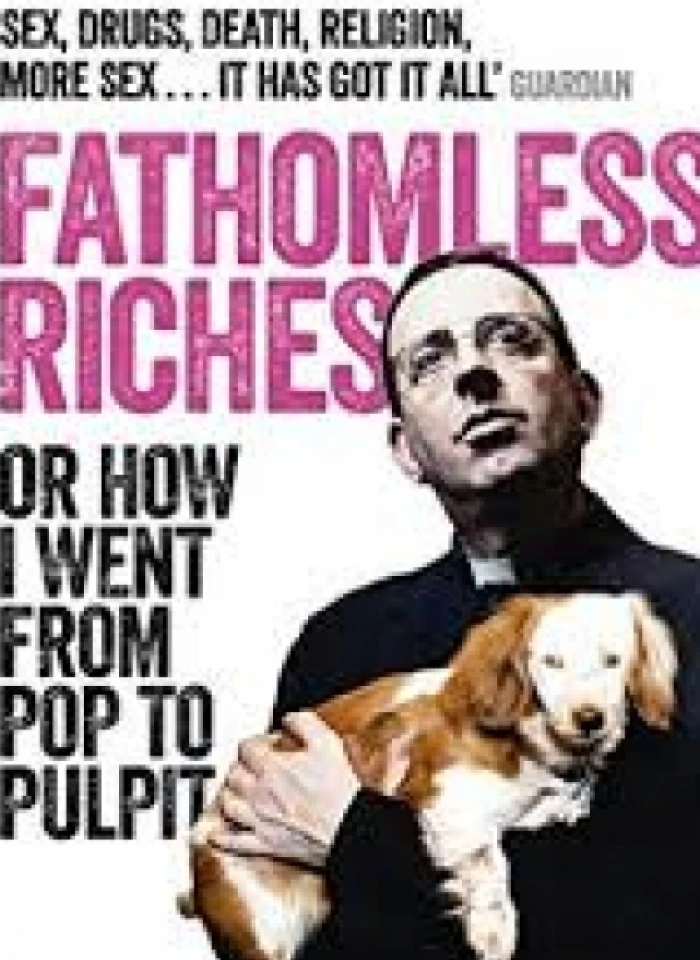 Revd Richard Coles' book 'Fathomless Riches: how I went from Pop to Pulpit', was, we all felt, a fascinating although challenging book. This is Richard Coles' autobiography from birth to his point of ordination into the Church of England priesthood. Many said that in the middle of the book they would have stopped reading, because it was so distressing, if it had not been for all thinking that they liked him on the radio and felt he is essentially a good man.
His early life was particularly interesting to me as he was born in the Barratt maternity hospital in Northampton and was brought up in Kettering and talks of many villages I am familiar with having been brought up in Northampton. The Maternity hospital was paid for by the Barratt shoe company, whose slogan was 'Walk the Barratt Way'. As an adolescent whenever we saw a pregnant woman we said she was 'walking the Barratt Way'.
He came from a fairly prosperous family originally and went to Wellingborough School (a minor public school) as a day boy. Here he was in the chapel choir and found he had a good voice. He was always a show off and strived hard to become head choir boy, which he succeeded in becoming. He was mortified when his voice broke and he became nothing in the choir.
Early on he realises he is gay, when it was illegal and from then on we felt he was struggling as a lost person who could not be open about himself to those around him. He became extremely left-wing politically attending many rallies.
He became interested in pop music and eventually started the group 'The Communards' with Jimmy Sommerville as lead singer and him on piano and keyboard. Jimmy was obviously hailed as the lead person of the group which always rankled with Richard and eventually led to a falling out. In the meantime they became famous and amassed a large fortune. However this pop music scene was full of gay people and an underground culture of drugs, drink and illicit sex, which Richard delved into with gusto! Some of the middle chapters describing these times were very harrowing and we supposed they were included in this detail to show the contrast with his later journey. During this time HIV and AIDS became known and alarmingly prevalent initially among the gay community. There are many harrowing descriptions of close friends of his rapidly dying with infections caused by AIDS! To his everlasting shame at one point Richard told all his friends that he was HIV positive, which he wasn't. Presumably he wanted to feel part of this beleaguered community. When years later he had to own up to this deceit it caused much trouble.
After he left the pop scene he obviously had plenty of money and seemed to spend it without regard, being over generous to friends. Was this a way of still currying favour for a man who felt he was personally unattractive?
He went through a period of depression but then became interested in religion. He had a long talk with the curate of St Alban in Holborn who invited him to Mass. At that first Mass he was overwhelmed by the pageantry of the High Anglo-Catholic ritual and at the point of the dedication of the bread, he had a wonderful revelation of being set free. Later he got to know Wesley's hymn 'And can it be' and said that his experience was just as the verse says 'I woke, the dungeon flamed with light; My chains fell off, my heart was free, I rose, went forth, and followed thee.'
From then on he entered more and more into the life of the church, but was always drawn to high ritual so that for some time he converted to Roman Catholicism, but eventually came back to the C of E. He felt called to the priesthood and was trained at Mirfield, a high Anglo-Catholic seminary, His description of his time there seems full of very unchristian people who were very cliquey. The book closes with his ordination at the large Boston Stump church in Lincolnshire.
I close with the last paragraph of Richard's preface: 'I have frittered much in splendour and awfulness, and I have tried to be as candid as I can about that, in order that – if disgraced myself – I do not disgrace Paul's calling to preach to the Gentiles the fathomless riches of Christ'.
David Neville