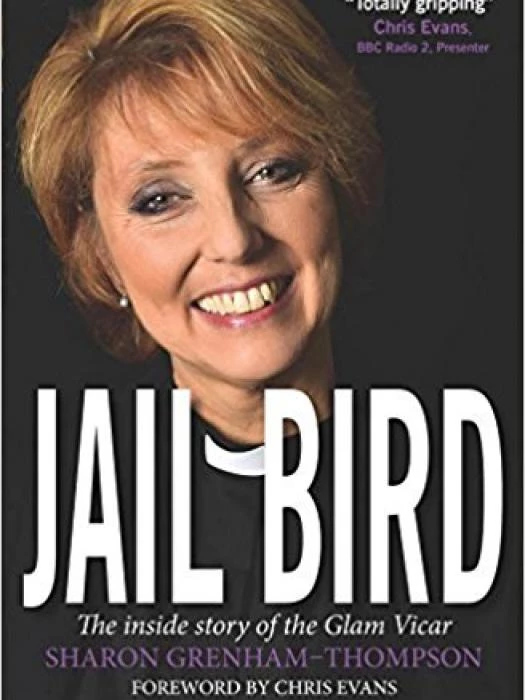 Some of us have been in prison, albeit in support of various former ministers who were part-time chaplains at Aylesbury, Bedford or Grendon Underwood prisons. Yet, whilst we already knew something of the work of prison chaplaincy, Rev. Sharon Grenham-Taylor's autobiography gave most of us further insights and even greater respect for the valuable, unsung contributions it makes.
The 'Glam Vicar', a contributor to Radio 2's 'Pause for Thought', has managed a multi-faith chaplaincy team at Bedford jail for several years. However, it was her very unglamorous failings and difficulties with home, school, marriage and mental health that won our respect for the openness and honesty with which she shares these with her readers. It is also these very personal problems that have helped her to empathise with her prison population, especially with the large number with mental health issues. Had it not been for her own discovery of faith, she believes that she could have trod a similar path to many of those in jail.
Investing more in the prison service has always brought outraged reaction from the 'lock 'em up and throw away the key' sections of the popular press. Yet a failure to invest in enough staff and rehabilitation programmes has created the revolving door scenario of reoffending and unrest we see today. Part of the problem, we felt, was the lack of a clear philosophy of our prisons. Is it to punish, reform or what? The lack of resources coupled with short sentencing and reduced probation service makes continued treatments and rehabilitation efforts difficult if not impossible.
When special were efforts made, for instance in recording inmates reading stories for their children, bringing in a university choir to sing with prisoners or in creating a garden and growing plants, amazing results and changed behaviour can be seen as she illustrates. There is also the graphic example of 'Victor' where more enlightened mental health treatment completely transformed his behaviour. The energy and determination needed to jump through the numerous and understandable security and logistical hoops to make these initiatives happen though, can be daunting.
The importance of 'Nan' to many prisoners came across to us, as did the importance of good support to prison chaplains themselves. The author had experienced some old-fashioned views of the secondary place of women vicars married to men vicars and some enlightened support later in her career on her three marriages.
We felt that she made a compelling case for prison chaplaincy with her argument that, "someone has to engage with offenders on a level that goes deep enough to discover the mess of emotion, anger, and experience that has produced the levels of irresponsibility, violence and addictions paving the road to jail." Chaplains have a huge role to play in the daily life of prisons and can do things that other staff cannot.
Just as our last book was about 'Joy' the key message we took from this book was 'Hope'. Grenham-Thompson's experiences in prison had led her to conclude that, "inside each heart there lies the capacity for something good, however small, and inside many of those hearts, there lies the potential for transformation." She added that her gladness was in "offering the hurting heart – the searching, wounded, wondering heart – a touch of hope...I think there's a fair few hungry for that hope."
Peter Green