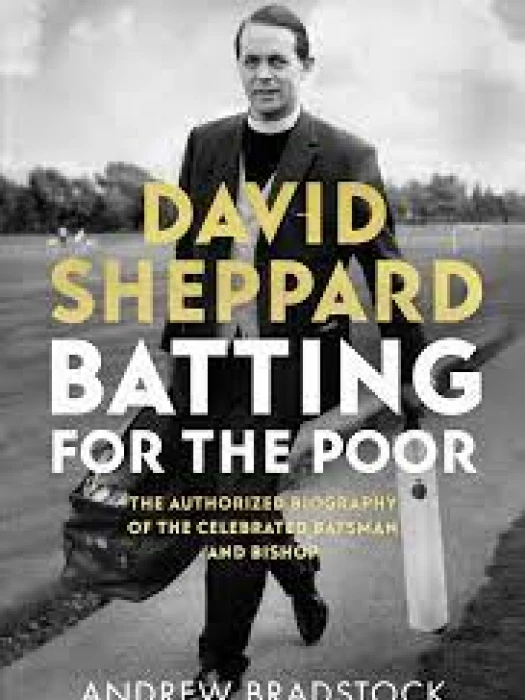 Andrew Bradstock's authorised biography of David Sheppard, the England cricketer, and Anglican Bishop (1929-2005) gave us an insight into the man, his faith, character, passions, and achievements. Whilst the book is meticulously researched, there was some disappointment that Bradstock never met and did not know Sheppard personally but relied on interviews with people who did, plus Sheppard's archived private papers. Some also felt that the book was too long (over 300 pages of small type), too detailed (especially for non-cricket lovers) and too dry, lacking warmth. Yet, having said that, we found much to discuss.
Whilst some of us grew up knowing about Sheppard, others were unaware of his privileged upbringing in a world of nursery, maid, private school, and Cambridge, yet, though not of the poor, choosing to spend his ministerial life working for the poor. Excelling at cricket as a batter and fielder, he went on to captain Sussex and England and make it into a cricket commentator's 'dream team' of England's best. Following his conversion at Cambridge to a 'personal knowledge of Jesus Christ', he used his cricketing fame as a platform to share his faith and open doors to 'top tables' where he could champion communities, causes and policies he supported and to where the poor themselves were unlikely to gain access.
When entering the ministry, rather than opt for an easy posting in what he described as 'comfortable Britain', he specifically requested posting to an inner city, 'the other Britain'. This took him to Islington for a life-changing two years. It raised questions for him about the role of the church needing to be more of a servant to its community, the importance of developing local leadership and commitment to staying in the area rather than constantly moving on. This led to his appointment as warden of the Mayflower Centre in Canning Town where he practiced what he preached by remaining for 11 years.
Whilst at the Mayflower, he still found time for cricket, playing for the MCC (England) in Australia, where he also preached widely. It also saw him in the forefront of South African anti-apartheid action, campaigning for the MCC to cancel its planned tour of South Africa due to their refusal to accept a mixed-race party if former Cape coloured South African Basil D'Olivera was included. His principled stance which attracted much opposition, also won the respect and friendship of people like Father Trevor Huddleston and Archbishop Desmond Tutu. The eventual cancellation of the tour was a major factor leading to the ending of apartheid.
His stance on race and social justice led to his appointment as the Bishop of Woolwich. There, he helped build bridges with Roman Catholic and free church clergy. This was a huge benefit when, after six years at Woolwich he was appointed to the then religiously divided city of Liverpool. The close working relationship with the Roman Catholic Archbishop of Liverpool, Derek Warlock, led to their nickname of 'fish and chips' – always together and never out of the paper. Some in our group were also very aware of the roles of two former Presidents of the Methodist Conference – Norwyn Denny and John Newton, in forging strong, working ecumenical relationships there. Sheppard and Warlock's success in changing religious and other attitudes in the city was contrasted with the present protestant-catholic bigotry still shown in Glasgow, especially amongst Rangers and Celtic fans.
Originally beloved by conservative evangelicals, he himself disliked labels, seeing himself as a 'not only, but also' sort of man. Certainly, he progressed from believing Christianity was not only about personal salvation but also had a social dimension. Some of the group felt he was a radical liberal on some issues, others that he was an evangelical ahead of his time. Two examples were that whilst generally following church policy and doctrine, he did, knowingly, appoint some gay clergy in relationships and supported women in the ministry from his earliest days. One of his legacies was said to be having social action as a key part of evangelical current thinking, So not just Jesus but also the wider world.
Throughout his ministry he was driven by a belief that loving your neighbour meant having a passion for the common good and for the building of thriving communities and a more co-operative society. This belief was at odds with Margaret Thatcher's avowal that 'there is no such thing as society.' Through his books, reports, and public lectures he challenged much of the New Right thinking of the day and put forward the economic benefits of the rich individuals and nations financially helping the poor to everyone's benefit.
We felt that his marriage to Grace reflected the norms of the time. On their honeymoon, he left her in Italy with chickenpox, whilst he returned to play cricket, albeit with Grace's blessing, not wanting to be seen to be holding back his career. Her illness triggered a long-lasting agoraphobia which was only resolved years later after counselling. It was in her later years that Grace's own ministry flourished with her own books, broadcasts, and personal appearances. The two were united with their common faith and it was through prayer and only after careful thought between them that major decisions were taken. Similar careful preparation typified both his batting and meetings underlining his intention to always be well prepared and avoid surprises.
That he managed to cram so much into his working days was only possible with his diary-led time management techniques, which the then Chief Rabbi Jonathan Sacks copied and found life-transforming. Sheppard's achievements were recognised with the freedom of the City of Liverpool, along with Derek Warlock, a lifetime peerage, and a more confident, united city. As a Liverpool taxi-driver said to one of the mourners at his funeral, "He stopped us feeling sorry for ourselves."
A man of presence, leadership and deep faith and raised in 'comfortable Britain', Sheppard batted with distinction for his country and with equal distinction for the poor of 'the other Britain'.
Peter Green