Angela Smith:
May 2017
I have been told by a member of Aylesbury Methodist Church, that one afternoon, when she happened to enter the building, she found it bathed in a most beautiful rose coloured light. The sun had struck the circular window above the balcony at a certain angle and the result was spectacular. It was if the quotation from Ezekiel chapter 44 verse 4 was coming true. It reads, "I looked and saw the glory of the Lord filling the temple."
While chatting in the Church Coffee Bar one morning, my attention was drawn to the framed description of the David Wasley Window. I read it carefully and decided to copy it out, so that I could study it at leisure. Then I walked to the opposite end of the Church to see this window, high up near the roof. Like my friend, mentioned above, I was filled with awe. I took photographs of it, so that with the aid of a magnifying glass, I could appreciate its symbolism and meditate upon it.
There I found the circle, which represents the universe with all created things and the symbol of eternal with God and the healing mandala shape, with the star-like cross reminding us of Christ's life and death. The indescribable Holy Spirit is depicted as coming to the apostles as tongues of flame (Acts 2 verse 3) bringing the gifts of wisdom, knowledge, healing, miracles, prophecy and what David calls charity. (Corinthians 12 verse 8)
On either side of the central window are lights with other symbols — on the left an escallop shell associated with baptism and pilgrimage and adopted as a symbol of Methodism, and on the right the dove of peace amid air, fire and water.
Thank you, David Wasley, for giving me a lot to think about.
popular recent storiesAlso in the news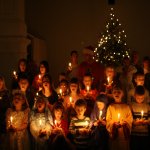 Posted: Fri 14 Dec 5:00am
Here is a reminder of our remaining services this Christmas: Sun 16 Dec 10.30am Morning Worship ACG Sun 16 Dec 5pm Candlelit Carol Service HK Sun 23 Dec 10.30am Morning Worship JS Mon 24 Dec 4pm Christingle Service HK Mon 24 Dec 11.30pm Midnight Communion HK Tue 25 Dec 10.30am Christmas Day Family Service HK Sun 30 Dec 10.30am ..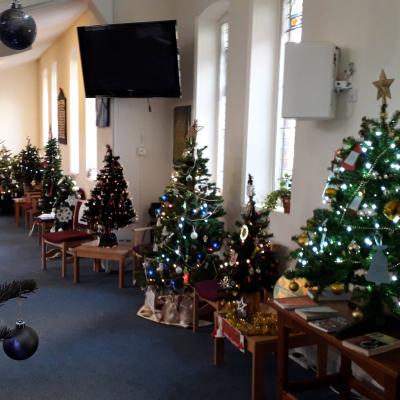 Posted: Thu 13 Dec 5:00am
Money doesn't grow on trees, unless you are organising a fund-raising Christmas Tree Festival. Ours was last weekend and thanks to donations, food and gift sales, £1,100 was raised towards the Church Welcome Project.This year, there were 20 trees decorated on a theme of Christmas songs and carols by church groups and community centre user groups. Ken Kole and his Merry Souls...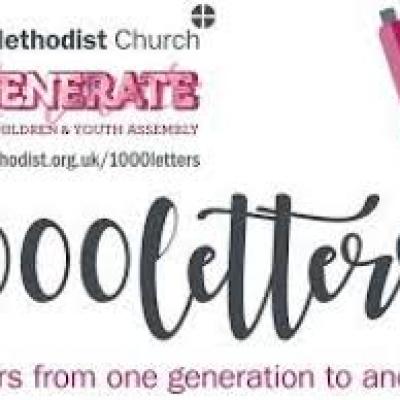 The Methodist Church: Wed 12 Dec 5:00am
This year's 3Generate, the annual Methodist Children and Youth Assembly took place over the weekend, 23-25 November, when 1,200 young Methodists, aged 8-23, along with youth leaders and volunteers gathered in Southport.The Youth President Jasmine Yeboah, who was elected at last year's 3Generate said: "My theme for the year is Courageous. Many of the events looked at how young...