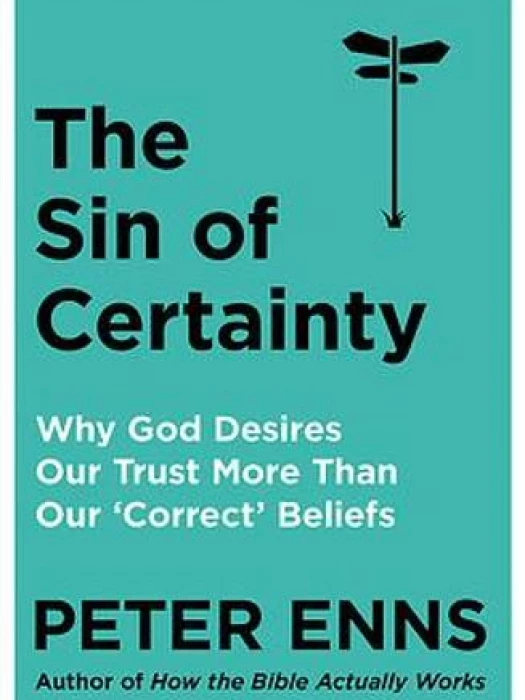 Ken Harris summarises the Good Faith Book Club's discussion of The Sin of Certainty by Peter Enns.
"There seemed to be agreement with the title of this interesting book, including with its subtitle "Why God desires our trust more than our 'correct' beliefs". We were happy to agree that wanting to be certain that we were right in all that we believed about our faith was, in itself, a sin or fault. This had been exemplified for some of us in the discussion about the Methodist Report 'God in Love Unites Us', where those who were certain of their beliefs found it difficult to accept that others might think differently.
Peter Enns started life as part of a community that took the Bible literally, providing him with a basis on which to build his certainty. While it satisfied him for many years in his progression as a Biblical scholar and theologian, he describes in great detail how this foundation crumbled, and instead, he came to believe that it was trust in God rather than the Bible that was the foundation of his faith. He had found the Psalms very helpful in this transformation. However, he had encountered a lot of opposition as well as support as a lecturer, eventually leaving the College he had served for many years, moving to a Church with a more liturgical tradition.
While some of the group had experienced a similar move from certainty about the literal truth of the Bible to one which placed greater emphasis on trusting one's personal experience of God, others had not grown up with so rigid a view of the Bible and so the book did not reflect their own life experiences.
Not everyone had found the book an easy read, and it was generally agreed that it could have been much shorter. But it led to a wide-ranging discussion, including about the place of mystery, the creeds, whether God had a plan, the place of doubt and of the dark night of the soul. Our different life experiences were such that there was no clear agreement on any of this, but I think we agreed on the need to recognise that none of us had a firm grasp on the nature of God. Given this, it is important in the church to respect the different views that each of us hold and to be loving in our relationships with one another."