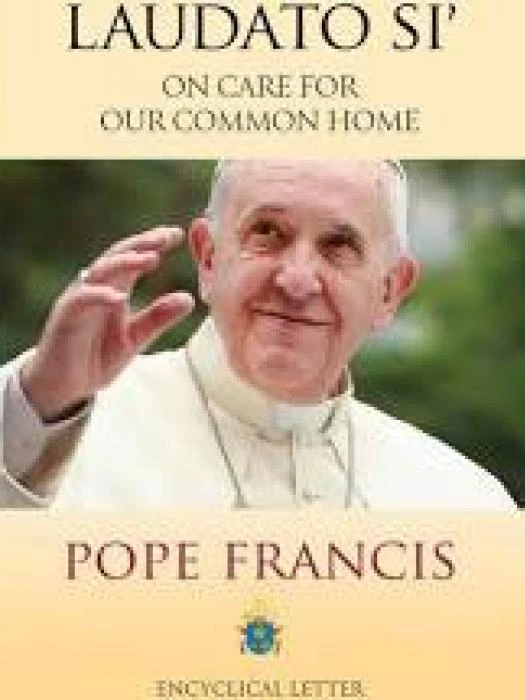 This month the book club had read Pope Francis' encyclical entitled Laudato Si. (Praise be to you) taken from a prayer of St Francis of Assisi, whose love and care for all creation was an inspiration for the Pope. The encyclical was the Pope's analysis of the ecological crisis facing the world, including climate change, and his proposals for ameliorating and perhaps reversing the current trends.
Some of the group found the language hard going as some was fairly scholarly, but generally it was an interesting and thought provoking read.
A first question asked was who it was written for? As an encyclical it was obviously to the whole Catholic Church community, but it was felt it should be read by all governments and politicians and NGOs who needed to be reminded of the seriousness of our worldwide ecological situation. But as it had some chapters which were very specifically doctrinally Catholic in content, it might put off some organisations that would see it as Catholic propaganda.
The group found it very plausible and although very Utopian we felt it was a right approach. The Pope very much encouraged the scientific analysis of current problems and wanted science insights to be combined with political will to enable his programme to be put into action. His solutions needed a complete overhaul of industrial, economic and social systems so that ALL people on the planet could benefit from the reforms and not just a privileged few rich western nations. His starting point was that all people throughout the world are loved by God and all matter equally. However this would be a very long term programme and by and large politicians don't take this kind of long term view as they have their eye on the next election. He also recognised that existing international forums would be most unlikely to sign up to these kind of revolutionary approaches. He therefore emphasises the vital importance of grass roots awareness and actions, as these if they are reasonable and sustained can influence political decisions. In this context the Church can be very powerful, both as showing how this kind of lifestyle can be lived locally and also as agents for grass roots change and persuasion.
This made us ask ourselves how well we personally and our local churches are doing in promoting sustainable living, from Fairtrade to not selling fizzy, sugary drinks. Are we personally being responsible in not wasting food or getting unnecessary 'stuff' which is ultimately polluting? We answered that although we are aware, we were probably not doing enough and need to consider the situation more seriously. We re-affirmed our belief in treating all people with love and respect irrespective of their culture or origin and celebrating the differences between people.
Overall it was a profitable and stimulating discussion. We were particularly impressed with the prayers included by the Pope at the end and we used one of them at the start of our meeting.
David Neville