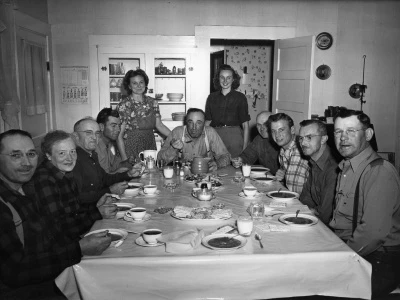 The media in all its many forms is full of soundbites and quotes; little snippets of advice or news that skim across the surface of our lives but never penetrate our consciousness in any great depth. However, in the midst of the migrant crisis this one got me thinking:
'When you have more than you need, build a longer table not a higher fence.'
It reminded me of my childhood. I was blessed to be part of a happy family; we were never very affluent; there were six of us in a three bedroomed terrace and the housekeeping money was always counted out carefully for the week but we never went without. Often there were more than six of us around the table at meal times: children who had come to play; aunts, uncles & cousins who were passing through; a neighbouring family who were in some difficulty were all invited to sit and eat. The table was extended, the benches brought in from the garden and somehow everyone fitted. I will never know how my mum managed to feed everyone but if truth be told I don't actually remember a single meal we ate however I do remember vividly the people who I ate with.
'When you have more than you need, build a longer table not a higher fence...'
Just another platitude? Or a statement that subverts our culture in which we are taught to protect our assets and put up fences for no one can be trusted. If my family had being 'fence builders' I'm sure I would have grown up surrounded by better material things but I would have missed out on the enrichment that comes from eating, laughing, listening and talking with the eclectic group of people who occasionally gathered around our table.
In Hebrews 13.2 is says this: 'Do not neglect to show hospitality to strangers, for by doing that some have entertained angels without knowing it'.
I'm not sure there were ever many angels around the table but I am certain, on reflection, that Christ was present in the midst.
So what might it mean for us to build longer tables? Perhaps it is a personal challenge to be more open to those around us? Perhaps it is a challenge for our church as we seek to offer hospitality to our neighbourhood in new ways? Perhaps it is a challenge to our community to offer a welcome to those who come seeking a home amongst us?
Who knows, as we seek to build longer tables we may find we are entertaining angels...